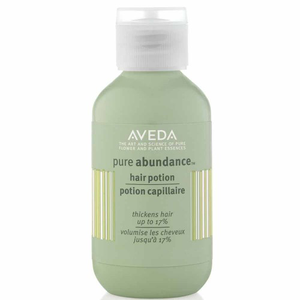 Hair texturizer that instantly volumizes hair and creates a matte texture. Boosts strands with naturally derived bulking agents including kaolin clay and acacia gum. Innovative formula transforms in your hands from a powder to a lightweight, absorbent lotion.*
USAGE
Do not shake. Liquefy a small amount in hands and apply to damp or dry hair.
For a more concentrated effect, sprinkle powder directly onto hair and work through with hands until fully dissolved.
TIPS
• Get more lift by sprinkling potion directly at the roots on dry hair and working it in
• For volume and hold without a heavy product feeling, use before setting hair in rollers, pin curls or with irons
• Get quick volume by sprinkling liberally through damp hair just before blow-drying
• To create texture on longer hair, apply potion before braiding or twisting hair. Let it set. Then take it down.
• On non-shampoo days, work potion through dry hair to help absorb excess oil
DETAILS
pure abundance
™
hair potion
Innovative formula transforms in your hands—from a powder to a light, absorbent lotion.* Like magic in your hair, it adds texture and creates abundant volume.
• Instantly volumizes hair
• Creates matte texture
• Boosts strands with natural bulking agents like kaolin clay and acacia gum
*Product that has liquefied will not affect performance. Do not allow product to freeze.
Aveda is a cruelty-free brand. We do not conduct animal testing and never ask others to do so on our behalf.